The Richard L. Farr Papers were acquired as a gift from Eula Dee Haney, of Dallas, Texas, on June 12, 1958. The collection spans from 1858 to 1889, although most of the items are from 1858 to 1865. The correspondence series constitutes almost the entire collection; there are only a few literary productions.

Information on biography and scope/content copied from finding aid generated by The Texas Collection. For more information on the Farr papers, please see the archival finding aid.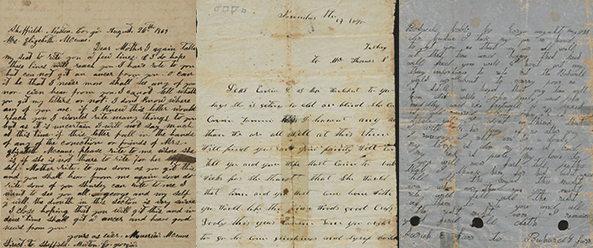 Richard Loyal Farr was born in Fayette County, Georgia, on 1839 April 6, to the farming family of Jesse H. and Elizabeth Nixon Farr (both of whom were born circa 1804). Around 1858, Richard married Elizabeth K. (circa 1837-?). Together they had at least six children. On 1893 June 29, presumably after Elizabeth's death, Farr married Minerva Eliza Lovvorn (1869-1918). Together they had at least four children.
In the 1860 census, Farr is listed as a farm laborer. He and Elizabeth were living with his parents at the time. Two years later, on 1862 August 24, Farr enlisted as a private in Company G, the "Fayette Volunteers," 30th Georgia Infantry. The 30th Georgia was organized at Milledgeville, Georgia, in the fall of 1861. The regiment participated in many Civil War battles, including those in the Chickamauga Campaign, the Atlantic Campaign, the Vicksburg Campaign, and the 1864 Tennessee Campaign. Farr became sick shortly after enlisting and remained in the hospital for much of 1863. By the end of that year, Farr was working as a nurse at Bell Hospital in Rome, Georgia, and Buckner Hospital in Newnan, Georgia.
Farr participated in something like a Baptist revival while working at Bell Hospital in September 1863, and he later sent a tract and a testament back to his family.
After the war, Farr returned to Georgia and back to farming. He died on 1921 February 8, in Clay County, Alabama.
Using This Resource In Your Research?




If you're a researcher or scholar and you've found a use for our materials in your work, email us at
digitalcollectionsinfo@baylor.edu and tell us about it! We may feature your work on our Digital Collections blog or work with you to promote your work via our other social media outlets.